Consider Engaging With Becca Williams of Thought Distillery When You Find Yourself Thinking Any of the Following.
Our:
strategic priorities need refinement
product backlog could be better
development teams need more direction on what to work on
product road map needs more detail
go-to-market strategy requires coordination across functional areas
remote teams could have better communications
user stories are not actionable
solution is over-engineered
We are not:
sure what to build
building the right things at the right time
aware of what our competitors are doing
focused on our stakeholders, customers, and users
transparent
We are ready to:
become a more product-focused org
think like a SaaS (software-as-a-service) company
consider what comes after Agile and Scrum
build something brand-new
maximize our positive social impact
We need:
better use cases, user flows, screen flows, user stories
low-fidelity wireframes
more process than we have as we scale
application consistency
customer journey mapping
inception and discovery planning and facilitation
Domain-Agnostic
Becca learns new domains every 3-6 months and is able to identify parallels and possibilities others might not see. She excels at quickly diagnosing project challenges, suggesting solutions, and predicting potential hiccups, bottlenecks, and blockers.
Her project and other professional experience spans many areas including:
Agriculture – grain milling and production ERP
Architecture, engineering, and construction proof of concept for a well-known, multinational software company
Automotive aftermarket digital transformation for a $1B company
B2B
Cloud solutions platforms

Amazon Web Services
Google Cloud Private
Microsoft Azure

Contract Analysis
Ecommerce
Education
Federal and regional entrepreneurial policy
Financial services

Insurtech
Automated underwriting

Journalism
Machine Learning, AI, digital human assistants
Non-profits
SaaS
Small business supplier diversity
Preventative healthcare
Renewable energy
Sports media content
Startups
The arts
Training
What The Clients Say: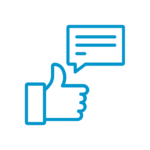 "Becca is a forward thinking, passionate, and trustworthy leader. I have personally witnessed and benefited from the tangible impacts of her leadership, Agile & Product centric skillsets, and infectiously positive personality. Becca's consultative input, guidance, and knowledge sharing is always delivered with professionalism and a customer first mindset. She successfully led an agile transformation of a large, diversified, traditional development team for one of my company's most strategic portfolios. Becca is well equipped to understand and identify challenges surrounding technical and product teams as well as recommend and lead the adoption of transformative solutions. Look to be thoughtfully inspired and motivated with any project or engagement Becca is a part of!! "
-NaTasha Taylor, senior project manager
"Becca worked for me for a technology startup of mine that had a newly formed team. In her capacity as scrum master and agile coach, she coached the product owner and team members on best practices for writing stories, particularly around acceptance criteria. She scheduled and led scrum ceremonies around sprint planning and backlog refinement and introduced a number of innovative tools and techniques to help improve team communications and story quality. Becca did an excellent job working with both people who were new to scrum and also experienced scrum team members. She confidently brought the team together, facilitated meetings and offline discussion, answered questions, and helped grow the team's scrum maturity level. After several weeks of Becca's coaching, the team had pulled together a clearly defined scrum board and a backlog that was refined and prioritized. In the process she removed uncertainty and confusion around features and workloads. I appreciate the contributions Becca brought to the project and hope I find another opportunity to work with her in the future."
-Brian Woelfel, Principal/Owner Eigen X
Becca is available for full or part-time engagements on a time and materials basis, retainer, or value-driven pricing approach.
EMAIL BECCA VISIT BECCA'S LINKEDIN PROFILE BECCA IN THE MEDIA
Thought Distillery is a Colorado LLC – Rock Collection, LLC, DBA "Thought Distillery."