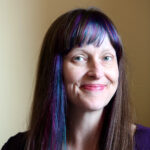 Becca Williams has 10+ years of cross-industry and cross-functional experience working with and leading globally-distributed and co-located technology teams. (And another 10 years in other areas including, but not limited to, classroom teaching, photojournalism, and non-profit work.) She celebrates being in her 40's and no longer feels the need to speak vaguely about timelines. She also recognizes it is this fascinating collection of varied life experiences that makes her the broadly-thinking technologist she is today.
Prior to starting her own company, Becca spent several years working for a Fortune 500 financial services organization, as well as wearing multiple hats for a boutique DevOps and Application Development consulting firm where she had the opportunity to work on cutting-edge solutions using Machine Learning and mission-critical systems for daily operations in the private and public sectors.
She is a Certified Scrum Professional, Certified Scrum Master, and Certified Scrum Product Owner. (And while she has invested significant time and energy into studying and applying Scrum, she's not dogmatic about it. Becca sees Scrum as one of many tools/approaches in the toolbox.)
Becca brings a unique approach to projects and working with clients. Her dot-connecting vantage point melds play, mindfulness, coaching, training, and social impact. She is a Certified Facilitator in LEGO® SERIOUS PLAY® through The Association of Master Trainers, having completed training with the method's creator, Robert Rasmussen, and a Certified Yoga Teacher, completing her program under Jessica Patterson at Root Center for Yoga and Sacred Studies.
Becca is based in Buena Vista, CO, on the traditional lands of the Ute people.
WORK WITH BECCA EMAIL BECCA VISIT BECCA'S LINKEDIN PROFILE BECCA IN THE MEDIA
For more on how Becca approaches working with globally-distributed software development and product teams, please check out the Internet Governance Forum (IGF) session, "The Future of Work from Home: Internet Governance Post Covid," where she was honored to be a panelist.
"The Internet Governance Forum (IGF) serves to bring people together from various stakeholder groups as equals, in discussions on public policy issues relating to the Internet. While there is no negotiated outcome, the IGF informs and inspires those with policy-making power in both the public and private sectors." IGF is hosted by the United Nations Department of Economic and Social Affairs (DESA).
Beyond "The Work"