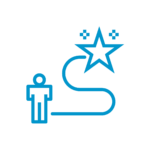 Are you seeking more impact in your work?
Making my positive dent in the universe has always been important, however, living out my purpose and taking ownership of the work I do, and striving toward personally and societally meaningful projects jumped up to be a top priority now that I'm in my 40s.
I know it sounds cliché but something about entering this decade of life was a wakeup call. It's no longer about climbing the ladder to get the next title up, adding another digit to my salary, bigger bonuses…It's about what lights my soul on fire. And that means working with clients who are solving wicked problems to make life better for people around the globe…to get sh-t planned effectively, well executed, done. Checkity check.
Below are a few helpful resources for finding jobs with purpose. Something to add to the list?
Technology/Startups/Design
NGO/Government/Non-Profit + CSR
If you'd like to keep exploring, read about what social impact means to me.