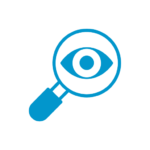 There are many layers of business analysis and varying expectations of what the role means within any given company.
The International Institute of Business Analysis (IIBA) defines it broadly as "the practice of enabling change in an organizational context by defining needs and recommending solutions that deliver value to stakeholders."
According to CIO, "Business analysts help guide businesses in improving processes, products, services and software through data analysis. These agile workers straddle the line between IT and the business to help bridge the gap and improve efficiency."
Practically speaking, on any given day as a BA, we'll likely be wearing a variety of hats. On smaller projects, we're seen as utility players, which could mean we're serving as project managers, testers, data/BI analysts, technical writers, facilitators, interviewers, UX designers, Agile Product Owners or ScrumMasters, content managers and/or detectives. On larger projects, we may focus on 1-2 of the above. We're professional problem solvers powered by curiosity and often come from multi-disciplinary backgrounds. There is no single path toward becoming a business analyst.
At a task level, we could be involved anywhere in the project lifecycle, from pre-sales to production go-live and steady-state operations.
For further reading:
Photo by Daria Nepriakhina on Unsplash